Obama and the Power of Words
These are words that move and uplift, that give hope to the hopeless. These words inspired millions of voters nationwide to join the grand experiment called democracy, casting votes for their candidate, their country, their destiny: "More than anything else, I want my candidacy to unify our country, to renew the American spirit and sense of purpose. I want to carry our message to every American, regardless of party affiliation, who is a member of this community of shared values . . . For those who have abandoned hope, we'll restore hope and we'll welcome them into a great national crusade to make America great again!"
So Ronald Reagan proclaimed on July 17, 1980, as he accepted his party's nomination for president at the Republican National Convention in Detroit, Mich. Earlier that day, the New York Times ran a long profile of Reagan on its front page. The author, Howell Raines, lamented that the news media had been unsuccessful in getting Reagan to speak in anything other than "sweeping generalities about economic and military policy." Mr. Raines further noted: "political critics who characterize him as banal and shallow, a mouther of right-wing platitudes, delight in recalling that he co-starred with a chimpanzee in 'Bedtime for Bonzo.'"
Throughout his campaign, Reagan fought off charges that his candidacy was built more on optimism than policies. The charges came from reporters and opponents. John Anderson, a rival in the Republican primary who ran as an independent in the general election, complained that Reagan offered little more than "old platitudes and old generalities."
Conservatives understood that this Reagan-as-a-simpleton view was a caricature (something made even clearer in several recent books, particularly Reagan's own diaries). That his opponents never got this is what led to their undoing. Those critics who giggled about his turn alongside a chimp were considerably less delighted when Reagan won 44 states and 489 electoral votes in November. One Reagan adviser had predicted such a win shortly after Reagan had become the de facto nominee the previous spring. In a memo about the coming general election contest with Jimmy Carter, Richard Whalen wrote Reagan's "secret weapon" was that "Democrats fail to take him very seriously."
Are Republicans making the same mistake with Barack Obama? ... In just the past week, conservative commentators have accused Mr. Obama of speaking in "Sesame Street platitudes," of giving speeches that are "almost content free," of "saying nothing." He has been likened to Chance the Gardner, the clueless mope in Jerzy Koscinski's "Being There," whose banal utterances are taken as brilliant by a gullible political class. Others complain that his campaign is "messianic," too self-aggrandizing and too self-referential....
The assumption behind much of this criticism is that because Mr. Obama gives a good speech he cannot do substance. This is wrong. Mr. Obama has done well in most of the Democratic debates because he has consistently shown himself able to think on his feet. Even on health care, a complicated national issue that should be Mrs. Clinton's strength, Mr. Obama has regularly fought her to a draw by displaying a grasp of the details that rivals hers, and talking about it in ways Americans can understand.
More
here
***********************
ELSEWHERE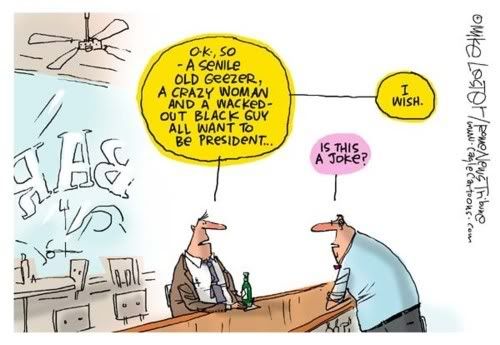 I would like to think something good about Obama -- seeing he could well be next POTUS -- so
here
is one excerpt that seems to have a point: "The best evidence of Obama's readiness to lead the nation is th e ability with which he has run for president. After all, what is more difficult, complicated, or challenging than getting elected president? What other life experience better illustrates one's qualification to hold the office than a manifest skill in seeking it. For anyone who has ever been elected president, the race that sent them to the White House was the single most important event in their lives and dwarfs any other experience they might have had before running. As we have watched Obama surmount the hurdles that lay in his path, we cannot help but be impressed with his judgment. .... Will he be a good president? If he is half as skillful in serving as he has been in running, he can't miss."
Obama terrorist connection
: "The board of a nonprofit organization on which Sen. Barack Obama served as a paid director alongside a confessed domestic terrorist granted funding to a controversial Arab group that mourns the establishment of Israel as a "catastrophe" and supports intense immigration reform, including providing drivers licenses and education to illegal aliens. The co-founder of the Arab group in question, Columbia University professor Rashid Khalidi, also has held a fundraiser for Obama. Khalidi is a harsh critic of Israel, has made statements supportive of Palestinian terror and reportedly has worked on behalf of the Palestine Liberation Organization while it was involved in anti-Western terrorism and was labeled by the State Department as a terror group."
A comment on Obama's latest example of economic ignorance
here