Obama's women reveal his secret
""Cherchez la femme," advised Alexander Dumas in: "When you want to uncover an unspecified secret, look for the woman." In the case of Barack Obama, we have two: his late mother, the went-native anthropologist Ann Dunham, and his rancorous wife Michelle. Obama's women reveal his secret: he hates America.
America is not the embodiment of hope, but the abandonment of one kind of hope in return for another. America is the spirit of creative destruction, selecting immigrants willing to turn their back on the tragedy of their own failing culture in return for a new start. Its creative success is so enormous that its global influence hastens the decline of other cultures. For those on the destruction side of the trade, America is a monster. Between half and nine-tenths of the world's 6,700 spoken languages will become extinct in the next century, and the anguish of dying peoples rises up in a global cry of despair. Some of those who listen to this cry become anthropologists, the curators of soon-to-be extinct cultures; anthropologists who really identify with their subjects marry them. Obama's mother, the University of Hawaii anthropologist Ann Dunham, did so twice.
Obama profiles Americans the way anthropologists interact with primitive peoples. He holds his own view in reserve and emphatically draws out the feelings of others; that is how friends and colleagues describe his modus operandi since his days at the Harvard Law Review, through his years as a community activist in Chicago, and in national politics. Anthropologists, though, proceed from resentment against the devouring culture of America and sympathy with the endangered cultures of the primitive world. Obama inverts the anthropological model: he applies the tools of cultural manipulation out of resentment against America. The probable next president of the United States is a mother's revenge against the America she despised.
Ann Dunham died in 1995, and her character emerges piecemeal from the historical record, to which I will return below. But Michelle Obama is a living witness. Her February 18 comment that she felt proud of her country for the first time caused a minor scandal, and was hastily qualified. But she meant it, and more. The video footage of her remarks shows eyes hooded with rage as she declares: "For the first time in my adult lifetime, I am really proud of my country and not just because Barack has done well, but because I think people are hungry for change. And I have been desperate to see our country moving in that direction and just not feeling so alone in my frustration and disappointment."
The desperation, frustration and disappointment visible on Michelle Obama's face are not new to the candidate's wife; as Steve Sailer, Rod Dreher and other commentators have noted, they were the theme of her undergraduate thesis, on the subject of "blackness" at Princeton University. No matter what the good intentions of Princeton, which founded her fortunes as a well-paid corporate lawyer, she wrote, "My experiences at Princeton have made me far more aware of my 'Blackness' than ever before. I have found that at Princeton no matter how liberal and open-minded some of my White professors and classmates try to be toward me, I sometimes feel like a visitor on campus; as if I really don't belong." ....
"Frustration" and "disappointment" have dogged Michelle Obama these past 20 years, despite her US$300,000 a year salary and corporate board memberships. It is hard for the descendants of slaves not to resent America. They were not voluntary immigrants but kidnap victims, subjected to a century of second-class citizenship even after the Civil War ended slavery. Blackness is not the issue; General Colin Powell, whose parents chose to immigrate to America from the West Indies, saw America just as other immigrants do, as a land of opportunity. Obama's choice of wife is a failsafe indicator of his own sentiments. Spouses do not necessarily share their likes, but they must have their hatreds in common. Obama imbibed this hatred with his mother's milk.
"Naivete" is a euphemism for Ann Dunham's motivation. Friends describe her as a "fellow traveler", that is, a communist sympathizer, from her youth, according to a March 27, 2007, Chicago Tribune report. Many Americans harbor leftist views, but not many marry into them, twice.
More
here
****************************
Brief Excerpts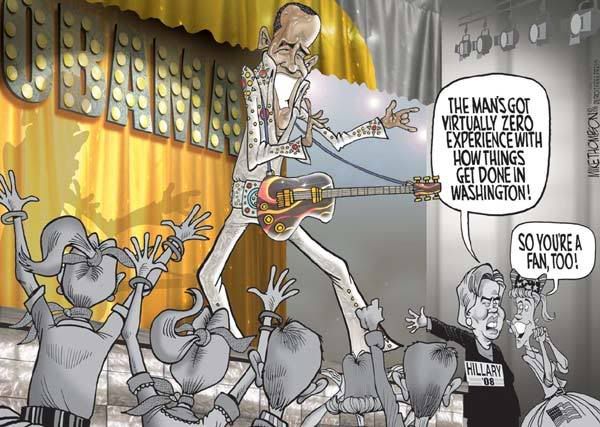 Obama against one law for all
: "When the nomination of John Roberts to be chief justice of the Supreme Court came up in the Senate in 2005, Sen. Barack Obama argued that the role of a justice is to favor the "weak" over the "strong." When the nomination of Sam Alito came up in January 2006, he made the same argument. Obama does not want a Supreme Court that preserves the rule of law, he wants a Supreme Court that wages class war under color of law."
Obama could ignite a nuclear war
: "Would a Barack Obama ascendancy in the US presidential election lead to a new war in the Middle East? There's quite a respectable case for thinking it might. It's a simple calculation. Despite the recently released US National Intelligence Estimate that Iran is not working on nuclear weaponisation, no one seriously doubts that Iran is moving towards nuclear weapons. The NIE confirms it is continuing to pursue uranium enrichment and missile capabilities. Weaponisation is the easiest bit of the process. Many Israeli leaders say that a nuclear armed Iran represents an existential threat to Israel. If they really believe this, they have no alternative but to strike Iran's nuclear facilities. If they believe McCain will win, they will have faith that the Americans, one way or another, will try to handle the Iranians. If they believe Obama will win, they not only believe he definitely won't handle Iran effectively, but he might even stop them from doing so. If Bush believes Iran will go nuclear, he might have faith that McCain could handle it. He will have absolutely no faith that Obama would handle it. The odds are against a US strike on Iran under any circumstances, and I would say the odds are even against an Israeli strike. But either or both are much more likely if it looks like Obama will win."
Posted by John Ray. For a daily survey of Australian politics, see AUSTRALIAN POLITICS and for a daily critique of Leftist activities, see DISSECTING LEFTISM.